Treat yourself to a break at the Bergkristall – your wellness hotel in Bavaria
New energy for body, mind and soul
Relax and recharge your batteries in our Kristall Spa, during your stay at the Bergkristall, the top wellness hotel in Bavaria.
Whether you want to escape the stress of the city or simply find yourself, our wellness hotel in Bavaria offers you a fantastic setting. The Bergkristall is a popular hotel for couples, but single people and families are also among our regular guests.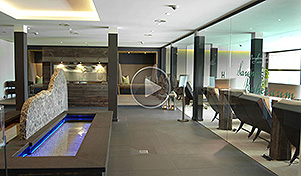 Burn some energy then relax at the Bergkristall
You can pursue a variety of activities in the immediate vicinity of our wellness hotel in Bavaria. From hiking and golf to winter sports, our region offers you ample choice of sporting activities. You will find wonderful trip destinations right on our doorstep. Your wellness holiday in the Allgäu begins after an active day. The Bergkristall has a 1500m² wellness area, the interior of which forms a harmony of centuries old wood and beautiful stone work. Look out at the beautiful mountain panorama and our own wildlife park from our year-round heated outdoor pool and saunas. Inside the Kristall Spa there is a pool with counter current swimming machine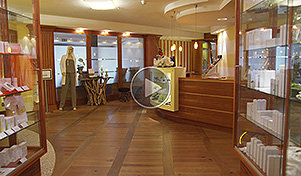 and spacious lounger area, also with views of outside.
Rest and leave everyday life behind
Our wellness hotel in Bavaria has many quiet zones. You have a choice between the sun deck, sun-bathing lawn or sauna lounge with cosy areas and interactive sand picture.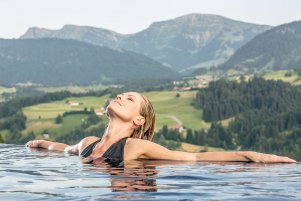 Feel comfortable in your own skin
In our exercise room we regularly offer different courses: you can choose between yoga, meditation, pilates and gymnastics. If you are more interested in muscle building, you will find four Technogym machines in our fitness room. Perhaps you simply want to be pampered during your stay at our wellness hotel in Bavaria? Our spa team can safely release the deepest of tension. If you are planning a wellness holiday in the Allgäu, it is always worth taking a look at our special wellness packages and offers. In addition we have our day spa which we offer to guests who are not staying with us. Following your visit to our wellness hotel in Bavaria we like to spoil you in our Bergstüble restaurant.
Listen consciously to your body: with the original Oberstaufen Schrothkur
Your well-being is paramount at our wellness hotel in Bavaria. The original Oberstaufen Schrothkur is a holistic natural therapy based on a 4-pillar principle where your body is cleansed from the inside out. Be good to yourself – at your favourite wellness hotel in Bavaria.